The Your Color Style Color
Consultant Certification Course

Watch this video for an overview and tour of the Your Color Style color analysis certification program.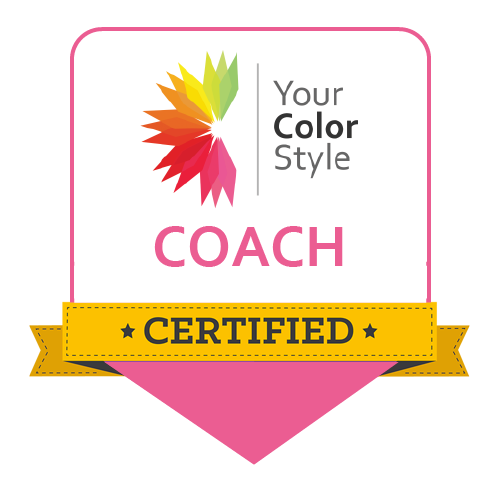 How To Create and Grow Your Own Profitable Business As A Certified Your Color Style™ Coach
From the desk of Jen Vax
I am so very excited to be sharing this opportunity with you!
When I first started Your Color Style, I thought it was going to just be about color analyzing women so that they could buy a color fan.
Being a Your Color Style™ Coach is so much more than this.
I've had the pleasure and privilege to help women, from all around the world, transform from feeling dull to feeling confident. From feeling lost with their self image to truly owning who they are. From only wearing safe neutrals to popping in color and receiving complements. It's an amazing feeling to help people, just like you, reinvent themselves.
I want to help you do the same thing. There's a reason I call graduates "coaches". You are not just color typing people. You are coaching them to wear colors that give them the WOW factor.
My mission is to help women express their true authentic self through color, creativity and entrepreneurship.
That's what this color consultant certification program is all about. Color is powerful and the perfect way to express yourself. As you grow in confidence, you start to wear what you REALLY want to wear and design who you want to be.
Imagine having your own business that you can run from anywhere in the world and have clients from anywhere in the world.
Imagine being able to do what you love, learn something new every single day, have fun with an amazing community and help women begin their transformations.

I want to make it as easy as possible for you to start your business.
Which is why this program is more than just a color consultant certification. It's a business program. Together, we are going to build your business.
You will have access to ongoing mentoring that will be the key to your success. You don't have to go it alone. True, you could just get certified but then what? How do you actually get clients? How do you build a website... and what do you do with it? How do you market online? What do you charge? How do you accept payment? How does the actual "running the business" thing work?
I'm sure you can come up with at least a dozen more questions. That's exactly why we have regular live calls and our private Facebook group. You now have a way to get all of your questions answered. My goal is to build an amazing community of like-minded business women that can become a resource for each other and a critical support system.

Are your ready to change your life?
Listen, I can't guarantee your success. Only you can make the decision to be successful.
But I can give you all the tools, education and support you need to get you started on the right path.
If you make the decision now that you're ready for YOUR next transformation... then get ready for a life-changing year. You're going to grow and stretch and learn things you never thought you could do.
Meet Jen :-)
Jen Vax is the founder of Your Color Style and your instructor and mentor throughout your training. She is the international best selling author of "That's My Color: Discover Your 5 Signature Colors To Transform Your Life". Her mission is to help women express their true authentic self through color, creativity and entrepreneurship.
Your Color Style Coach students can ask questions and get feedback through the private Facebook group and live calls. PLUS, Jen and her team are available to answer any questions related to your color analysis clients for as long as your license is active.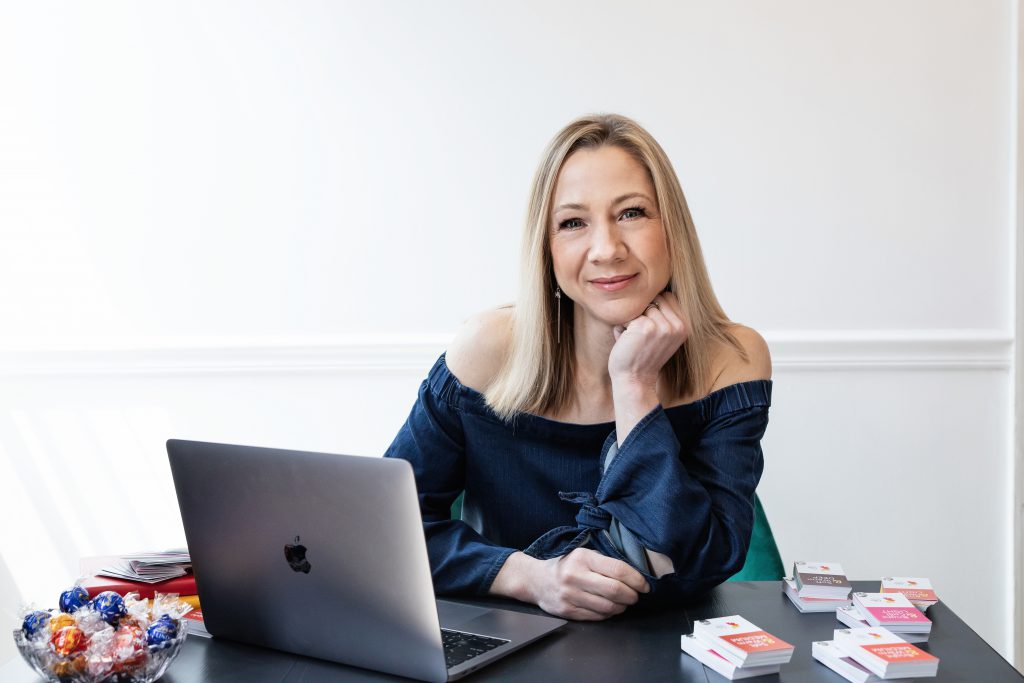 25 Years of Entrepreneurship
Just in case you're wondering how I'm qualified to help you grow your business... let me give you the "short" version of my business history.
In 1998, I decided I wanted to learn how to make money online. I learned that people look for information, more than anything else. Following some guidelines from a course I purchased, I published my first e-book titled "How To Heal Your Adult Acne Naturally." Odd, I know but successful. I was earning over $1k a month with just that one e-book.
That topic was boring to me and I decided to create a business around my interests. I created "How To Make Roman Shades" which grew into RomanShadeSupplies.com and SimpleSewingProjects.com. I taught people how to make window treatments through online courses and videos. 🙂
By 2011, I had a 1200 sq ft warehouse, with employees and tons of inventory. We were even featured in Martha Stewart magazine.
I sold this business in 2011.
In 2013, OutfitIdeas4You.com was launched. This was, at first, just a blog to play with my own personal exploration of seasonal color analysis and style. Since then, I've founded my own color system, designed the color palettes and created products... which is now Your Color Style™.
How did I do this? I have 20+ years of online marketing expertise. It does help that I have a graphic design and fine arts degree and background.
I've learned what's most important when starting out. I've learned how to market effectively online. I've learned what not to bother with. I've learned (and still learning) how to run a business... not just be self employed.
I've made MANY expensive mistakes along the way. You don't have to...
I want to teach you what I know and to help you avoid expensive mistakes. Leverage my 20 years of experience to your advantage!
Take Action
The people that are successful are the ones that take action. Sitting on the fence and doing nothing will result in... nothing. Take the leap. It's time to take action. Go through all the details of this program below... and then take action. Enroll.
We're going to change people's lives!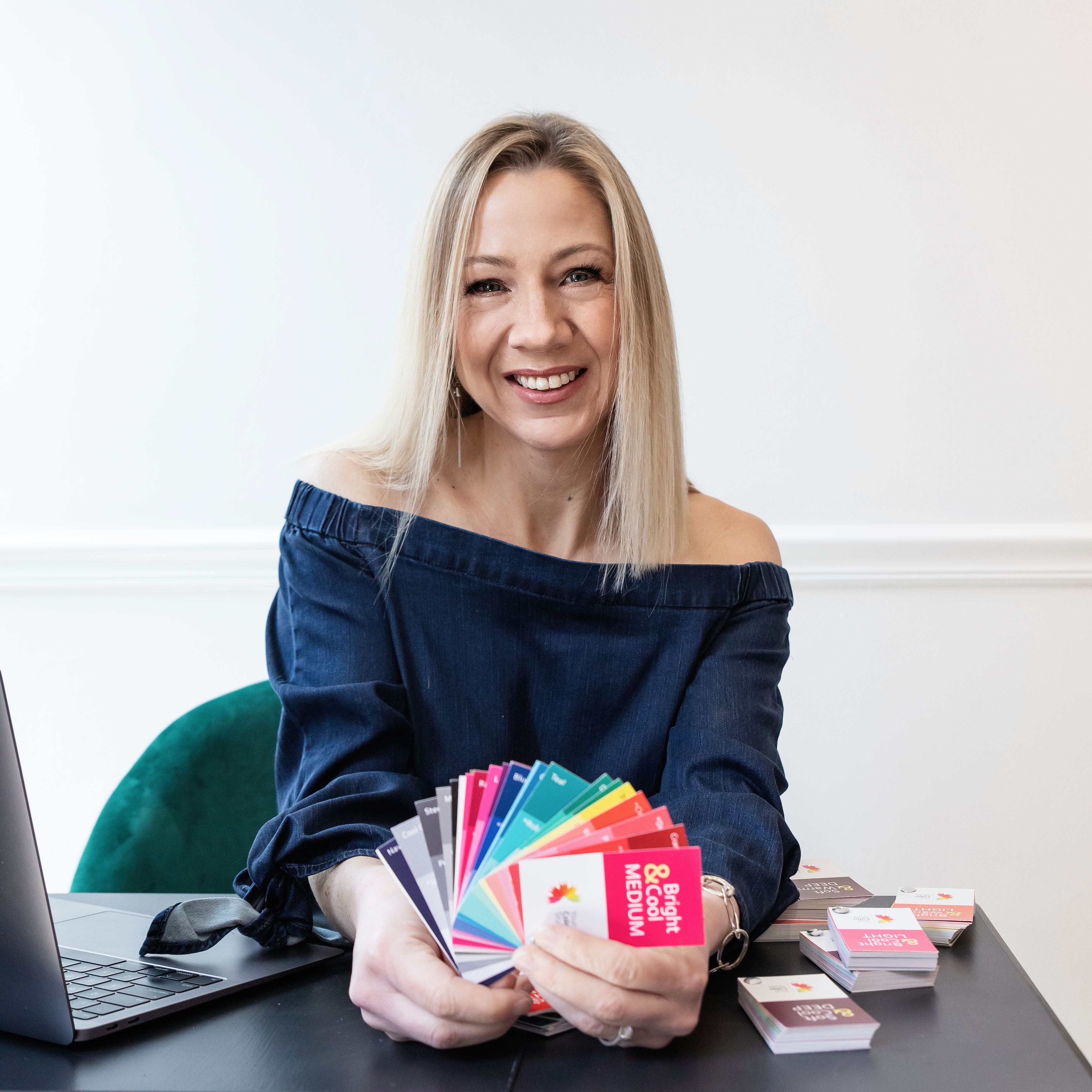 Support and Mentorship
Once in the Certification Program, the Your Color Style team (including Jen) will provide you the guidance needed to help you start and grow your business. Our live calls will answer questions, address business topics and ideas, as well as provide feedback on your clients.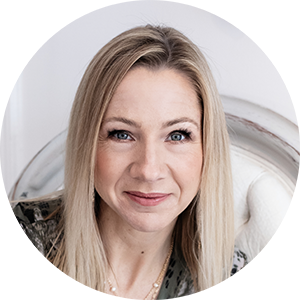 Network and Visibility
Our Certified Your Color Style Coaches are featured in our online directory. Potential customers will find your profile listed among your colleagues from all over the world. Customers can find you by mastery level and location.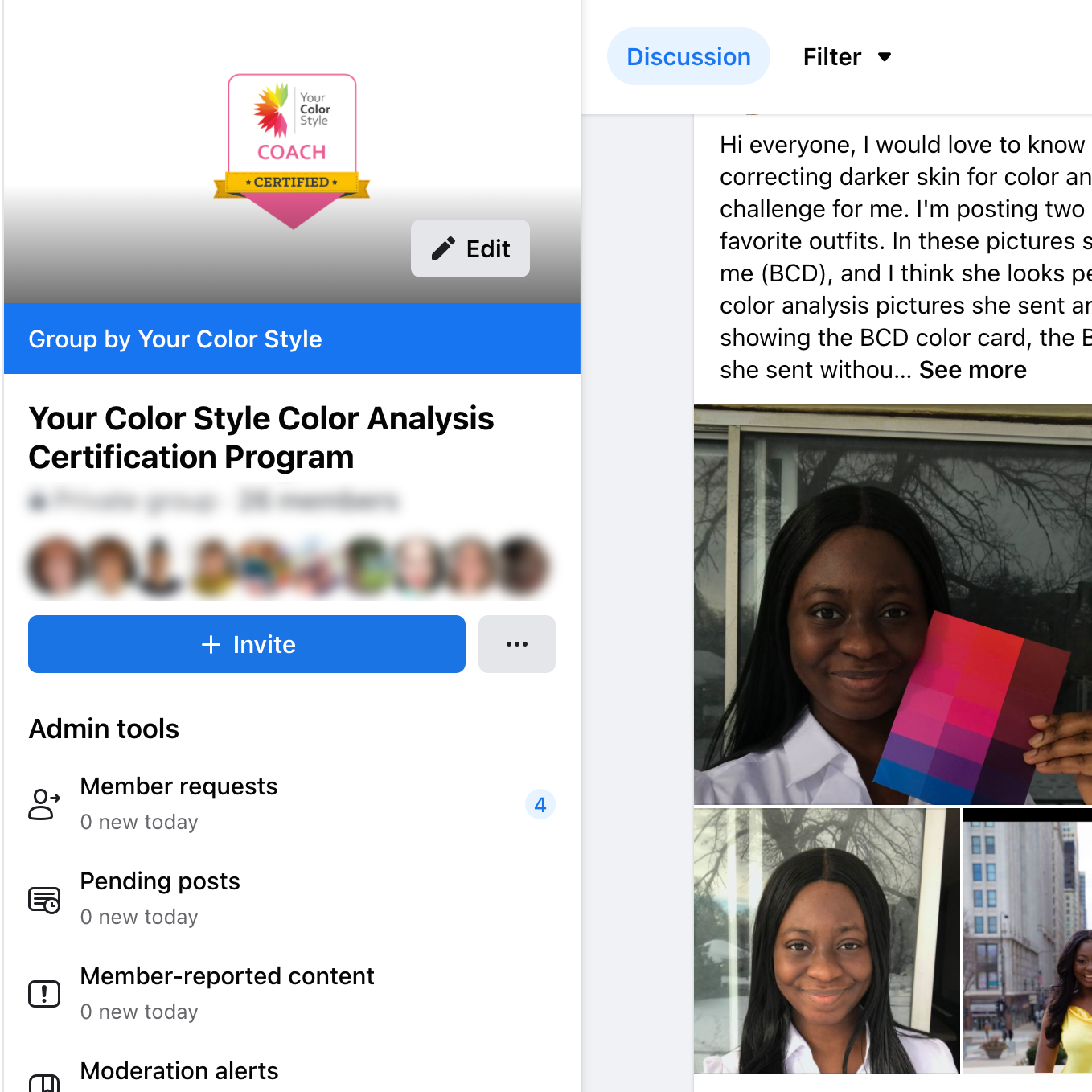 Community and Course
You will not be alone. You will have the opportunity to ask questions and post client photos in our private Facebook Group. You will also have access to your course where you will have unlimited access to materials, videos and tips.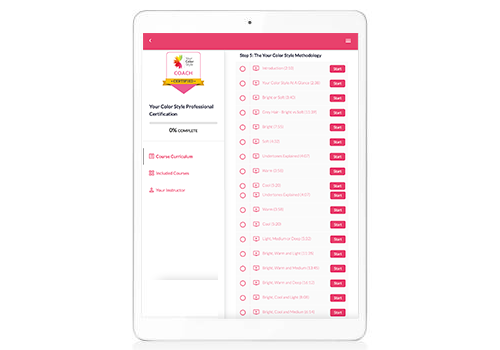 Step 1: Access Your Course
When you sign up for the Your Color Style Certification program, you will have immediate access to the online certification course, as well as the Color Mastery course.
These are self paced courses that you may complete on your own time. We highly recommend that you complete Color Mastery first, as it is foundational to understanding color and color theory.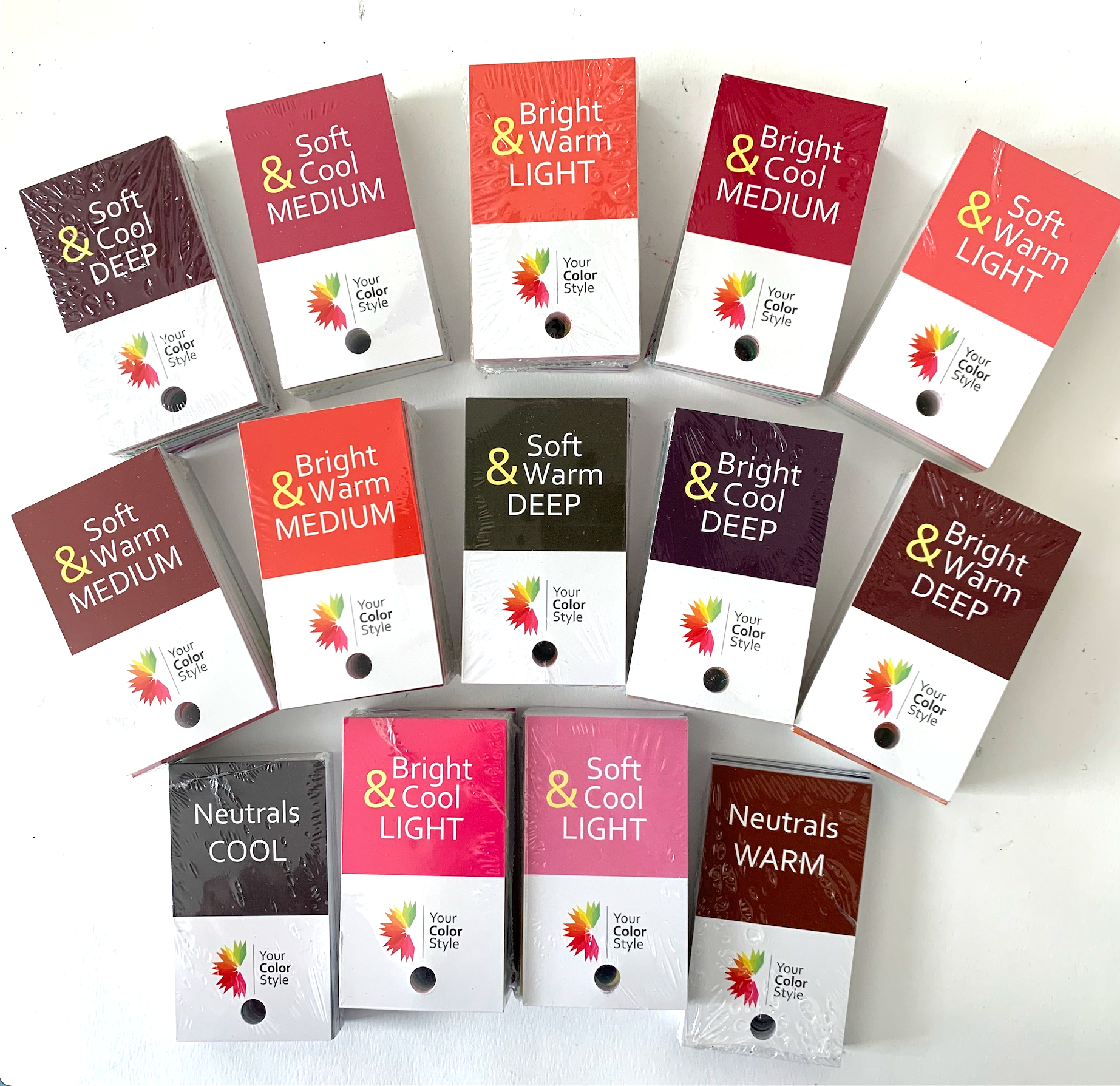 Step 2: Receive your YCS Coach's Kit
When you sign up for the certification program, your YCS Coach Kit will ship to you worldwide, 7 days after your date of registration. Your kit will include each of the 14 color fans and 12 drawstring bags. A $900 value.
We believe it's important to have access to the colors as you learn about color and color analysis.
You can choose to keep the color fans for your reference or sell them to your clients.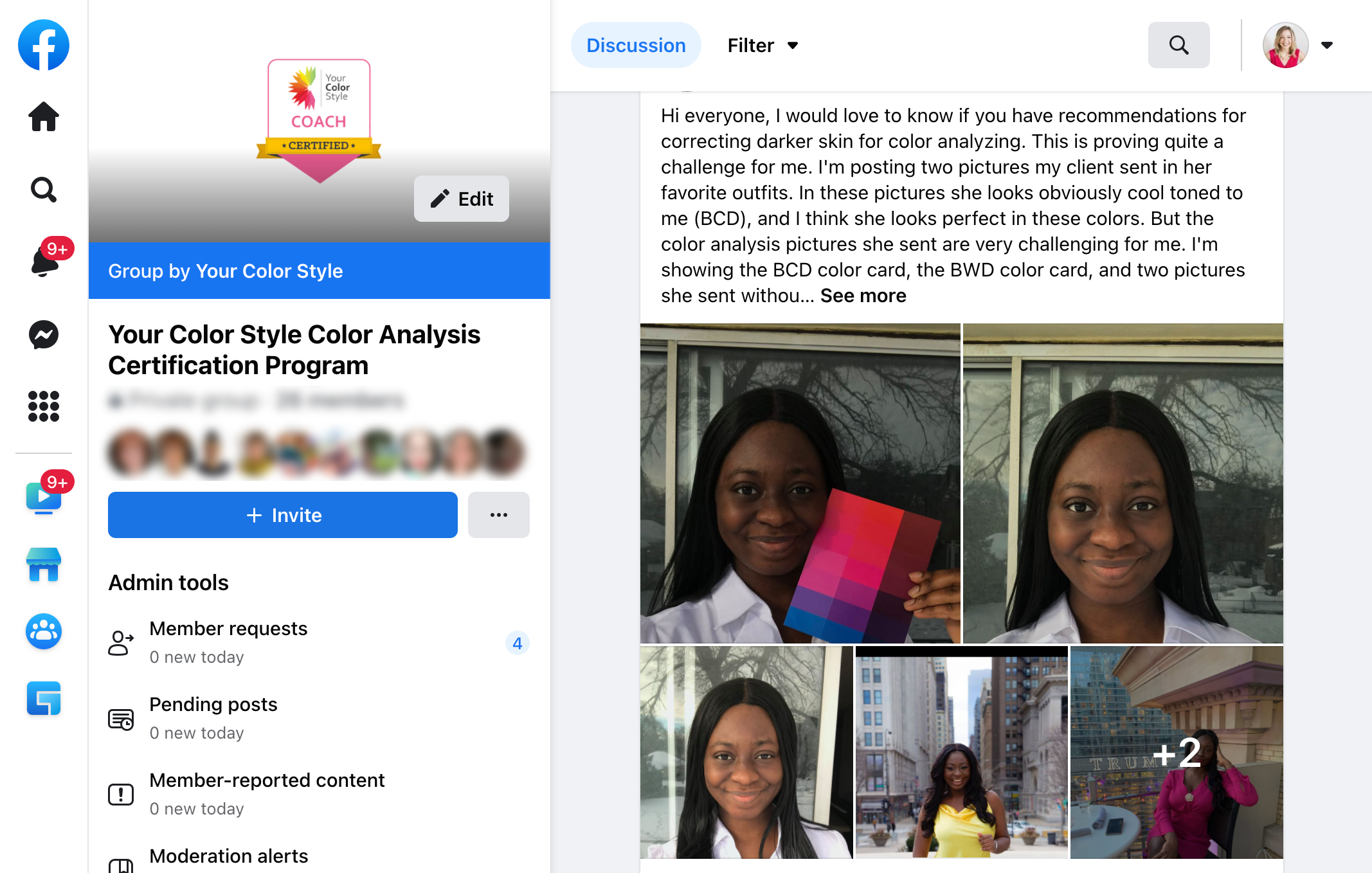 Step 3: Join the Community
All students are invited to the private YCS Coaches Facebook group. This is where you can network with other certified coaches, ask questions, post your assignments for feedback and eventually post your client's photos for guidance. It's also a great place to learn from other members' postings. We are a learning community and are always working on our craft.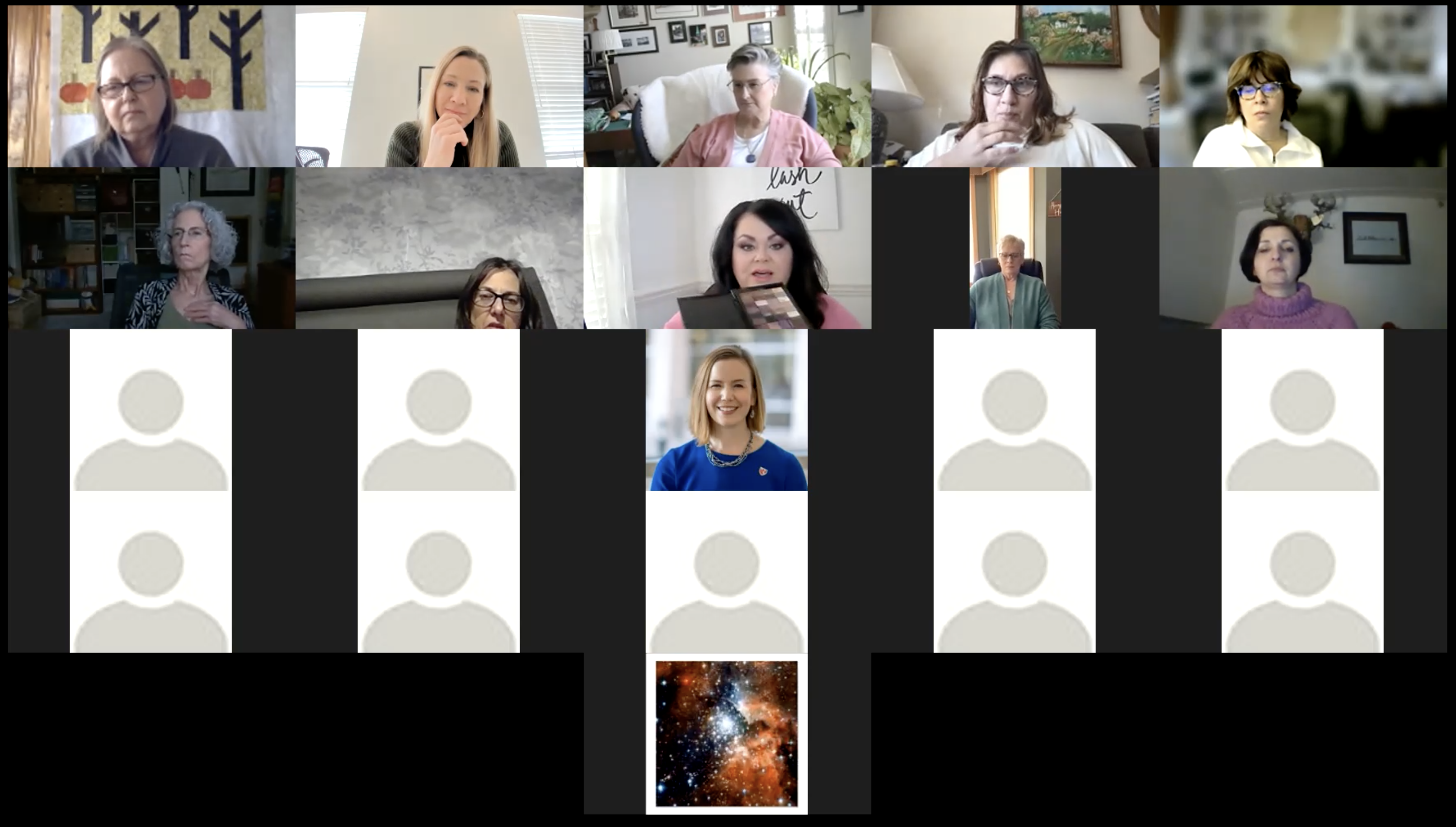 Step 4: Join a Live Call
This is optional but highly recommended. During the live calls, we do further training on key topics plus answer student questions. We also review student submissions, which is foundational to your learning. If you are unable to attend a live session, you should plan on watching at least one recording.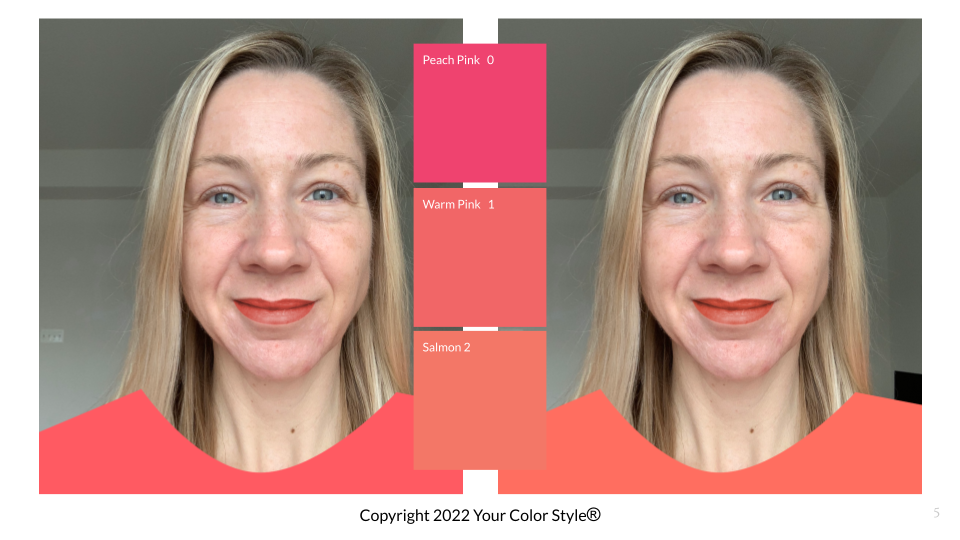 Step 5: Submit Your First Assignment
Your first assignment will be an online color analysis of YOU. This takes the pressure off of finding volunteer clients while you are learning. You will follow our step-by-step videos and template to create a professional e-book. Once you complete this step, you will have the confidence and skills to complete your final assignments.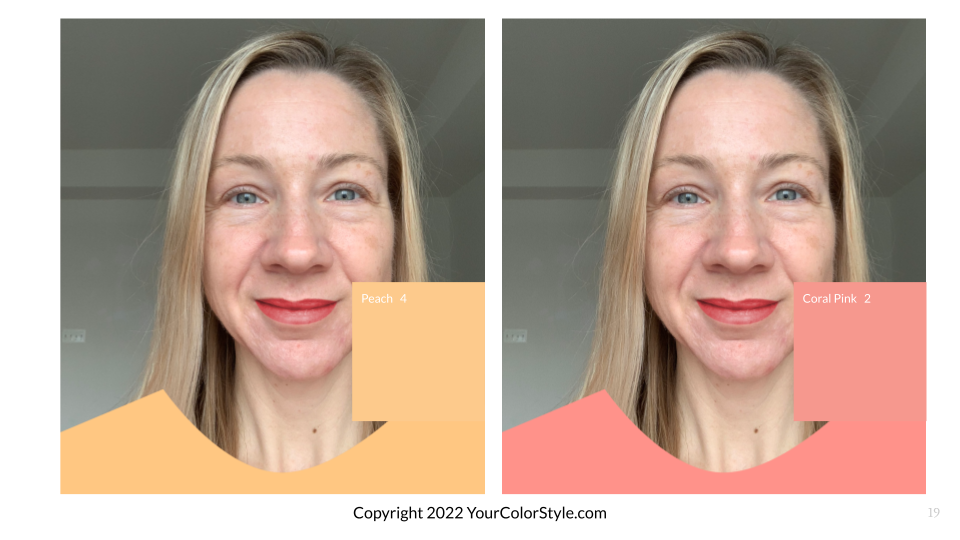 Step 6: Complete Your Final Assignment
Your final assignment will include any recommended changes to your first assignment, plus an online color analysis of two volunteer clients. Your three submissions will be reviewed via a recorded video.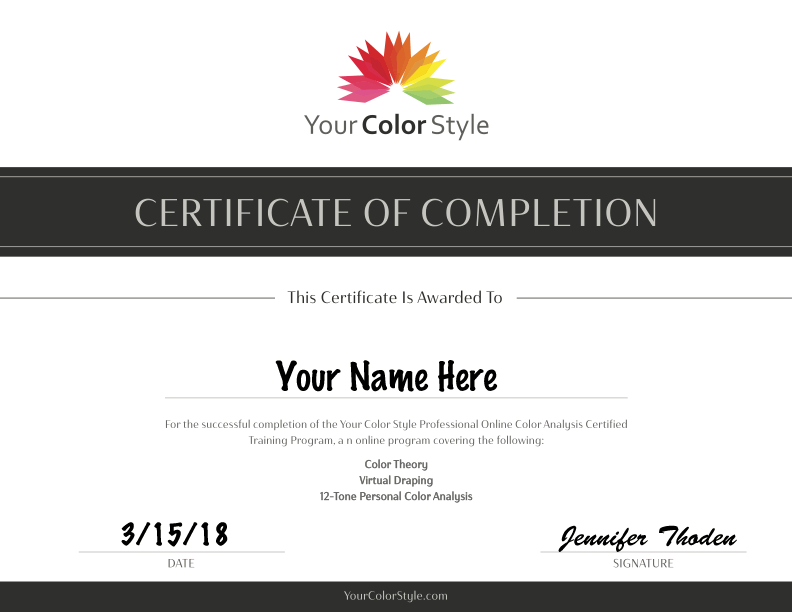 Step 7: Receive Your Digital Certificate
Upon successful completion of your assignments and assessment, you will receive your digital certificate that you can print or use on your website.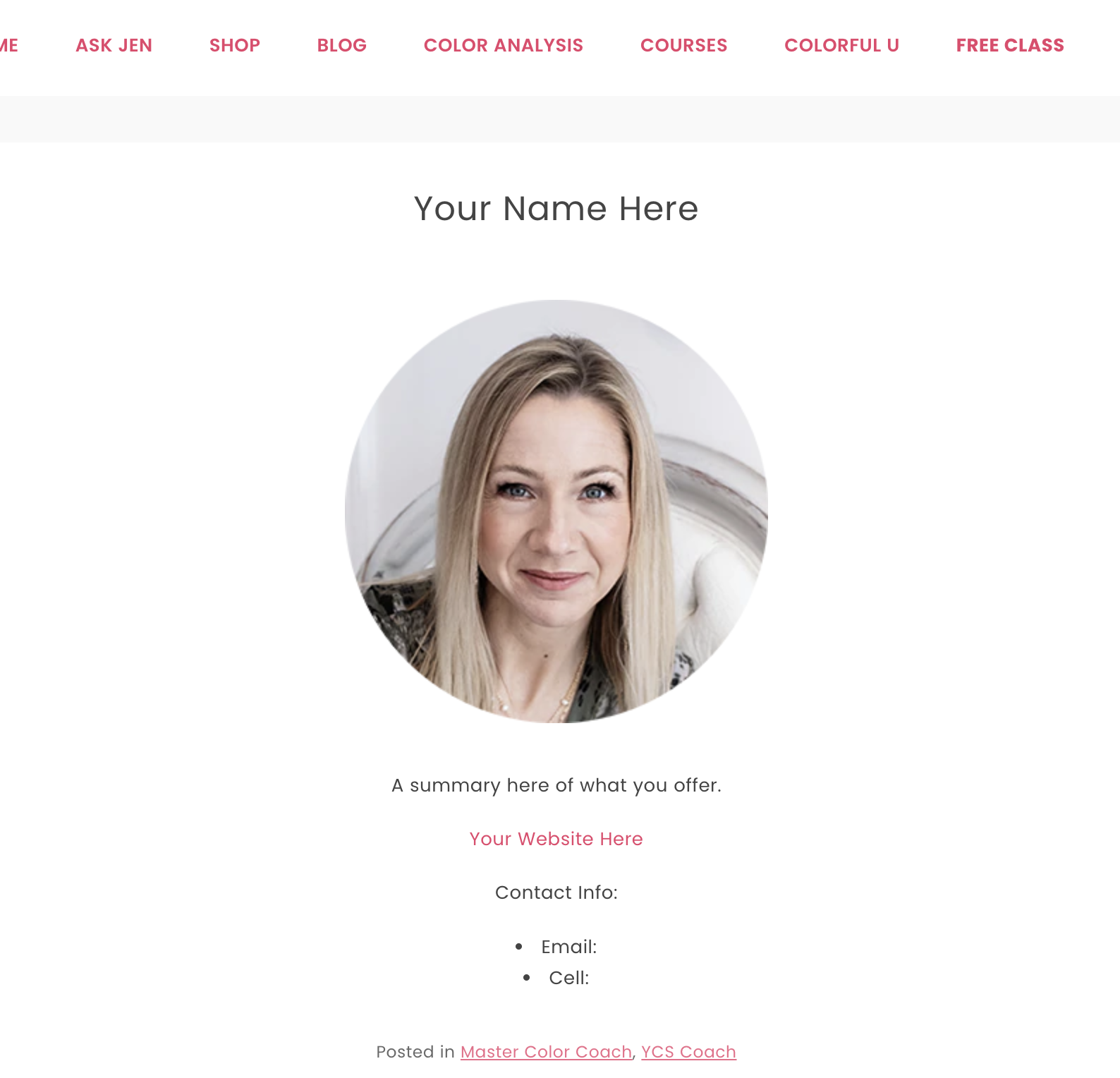 Step 8: Activate Your License and
Set Up Your Business Listing


Once you are a certified Your Color Style Coach, you can activate your annual license. Your license will provide you a business listing on our YCS Coaches listing page on YourColorStyle.com. This will provide you visibility and credibility to grow your business. Your license will also provide you continuous access to the materials, curriculum, live calls, FB group and mentoring support.

You Will Have Access To the Following Courses
Who should take the Your Color Style Certification course?
If you want to learn how to transform women's confidence and self image through color analysis and coaching, then the Your Color Style Coach certification program is for you. Our ideal members fall into one of these categories:
Action Oriented, Ambitious Beginners
Offline Business Owners Who Want To Add Color Analysis To Their Skillset
Online Business Owners Who Want To Add Another Stream of Income
Previously Certified Your Color Style Coaches
Enroll Today
You will have access to the curriculum for 12 months. Unless you decide to activate your annual license. Then access to the curriculum and benefits will continue as long as your license is active.
The full set of color fans will ship to you 1 week after you have registered.

Frequently Asked Questions
I have more questions. Who can I talk to?
Schedule a 30-minute info call with Jen Vax.

What exactly am I learning?
You will learn how to perform online color analysis on client photos using the signature Your Color Style method. You will also learn how to work with your clients, how to price your services, how to deliver a professional color analysis, online business strategies and more.
Will I learn in-person color analysis?
At this time, we are not offering specific training for in-person color analysis. Mainly because we have not acquired the drapes for you to purchase. However, everything you learn can be applied to in-person color analysis. If you are interested in doing in-person color analysis, please schedule an info call with Jen Vax to discuss how you can complete this program.
How long will it take me to complete my curriculum and get certified?
If you attend a live 3-day training, you could be certified within a week. If you choose to work through the curriculum at your own pace, students have completed as quickly as 3 weeks and as long as a year. It all depends on your personal circumstances.
Do I need to know anything about color analysis to take this program?
No. Many of our students come to us with little or no training as a professional color analyst. Before attending a live training, it is highly recommended that you watch the webinar replay "3 Steps To Discovering Your Best Colors".
What software do I need?
We highly recommend you get Adobe Photoshop for the virtual draping. You are welcome to use any software, but I will only be teaching with Photoshop. You will also need a presentation software like Google Slides, Powerpoint of Keynote.


What is the licensing fee?
The licensing fee is an annual payment of $500. This payment will be due upon receiving your digital certificate.
This annual fee will provide you with:
your business listed on YourColorStyle.com
the right to practice color analysis under the YCS brand
the curriculum and digital materials
FB group
live calls
mentoring
trade discount


Do I have to pay the licensing fee?
No, but access to the curriculum, FB group and live calls will expire 1-year after registration and you will no longer be able to practice color analysis using the YCS name.


What is included with the certification fee?
The registration fee is $2197 and includes your complete set of color fans, full access to the curriculum, digital materials, live calls, mentoring and support for one complete year.


Am I guaranteed a certificate?
No, but we have never had a student not receive their certificate after successful submission of their assignments.


Will I receive support?
Yes! You can submit questions in the Facebook group, via email, in the course and in the live calls. No are not alone in this process.


Will there be information on building a website and marketing?
This is not a formal section of the curriculum, however we discuss different business models, package pricing, online marketing methods and more in our monthly live training calls.

Can I get a refund?
You may request a refund within 7 days of your registration.

When will my set of color fans ship to me?
Your color fans will ship after the 7-day grace period.


What if I have already completed Color Mastery? Can I get a credit?
No. Color Mastery is included and recommended but not required. We will not be tracking completion of the Color Mastery course.