Exclusive to the ColorStyle Membership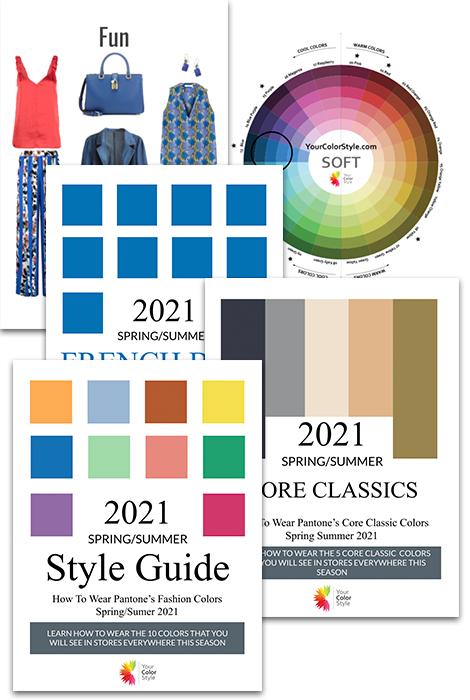 Monthly Color Guides
Have you ever walked into a store and thought, "I don't know if I like this color because I have no idea how to wear it". 
Every six months, you receive two complete guides on all of the trending colors for that season. The first guide shows you all the colors plus a few color combination ideas. It also maps out the similarities between the current season's colors and the past season's colors. This will help you transition your wardrobe a little easier. The second guide is all about the core classics. These are the staple colors in the trending color palette. This guide shows you outfit ideas using just the core classics. This is one of my favorite guides!
Then, each month, you will receive two new color guides. Each color guide focuses on one of the trending colors of the season. It shows you who can wear it best, which colors are the closest match in the color fans PLUS (my favorite part) five pages of outfit ideas showing you creative ways to wear the color. 
Here's what you get when you become a ColorStyle member:
2 seasonal color guides every 6 months

2 new color guide each month each featuring outfit ideas for a trending color

Access to the entire repository of color guides released since November 2018
All of this adds up to TONS of color inspiration. Find a color you're curious about and discover stylish and fun ways to wear that color.
Color Lab
Each month, you will receive the color palette of the month which consists of 28 harmonious colors. Harmonious colors are colors created from each other and therefore, all go together in creative ways.
PLUS, I create a video of how I actually create these colors with paint. If you love learning about color theory, you'll love this info. I also explain which color types will wear these colors best.
Download the image or the full guide which has the colors on a color wheel plus pages of the colors to print on your inkjet printer for journal play.
Find the colors in your wardrobe, mix and match and have fun creating stylish color combinations.
TIP: This color palette isn't just for clothes. Play with it in your interior decorating!